4. Lab-scale ion-exchange chromatography studies
Lab-scale ion-exchange chromatography studies allow the design of a metal-separation process using ion-exchange resins, which are mostly suitable for the selective valorisation of various diluted streams and solutions. The study includes the design of tailor-made adsorbents and/or the screening of commercially available adsorbents. The best performing adsorbent will be tested in batch adsorption experiments to fully characterise its chemistry towards the targeted metals and several parameters will be optimised. Finally, the adsorbent will be applied in a lab-scale chromatography set-up.
Available equipment: stirring plates, orbital shakers, column chromatography set-ups.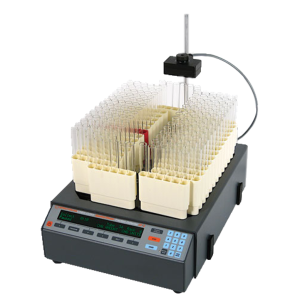 Column chromatography Custom-build
The Ismatec IPC 8-channel peristaltic pump, in combination with the Spectra/Chrom CF-2 fraction collector can be used for liquid chromatography. Fractions can be collected based on time, volume or number of drops. Flow rates between 0.002 and 44 mL/min can be achieved. A large variety of columns are available, which can be packed with an adsorbent of choice.