[et_pb_section fb_built="1″ fullwidth="on" admin_label="Section" _builder_version="3.22″][et_pb_fullwidth_image src="https://solvomet.eu//wp-content/uploads/2017/06/Solvomet.jpg" admin_label="Fullwidth Image" module_id="featured-image" _builder_version="3.0.87″ animation_style="slide" animation_direction="left" animation_duration="500ms" animation_intensity_slide="10%" animation="left" border_style="solid"][/et_pb_fullwidth_image][et_pb_fullwidth_code admin_label="Fullwidth Code" module_id="featured-overlay" _builder_version="3.0.51″][/et_pb_fullwidth_code][/et_pb_section][et_pb_section fb_built="1″ admin_label="Section" _builder_version="3.22″][et_pb_row column_structure="2_3,1_3″ admin_label="Row" _builder_version="3.25″ background_size="initial" background_position="top_left" background_repeat="repeat"][et_pb_column type="2_3″ _builder_version="3.25″ custom_padding="|||" custom_padding__hover="|||"][et_pb_text admin_label="Text" module_id="top10papers" _builder_version="3.27.4″ border_style="solid" saved_tabs="all"]
1. Pretreatment of solid materials
Solid materials, sludges and suspensions are fully characterised and pretreated to allow further processing. After full characterisation (WDXRF, ICP-OES, microwave digester, TXRF) metal-containing solid materials, sludges and suspensions are pretreated to allow further processing.
Available equipment: ball mill, mixer mill, mortar grinder, vibratory sieve
[/et_pb_text][et_pb_text admin_label="Text" _builder_version="4.7.3″]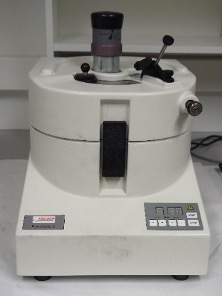 Automated mortar grinder Fritsch Pulverisette 2, lab 01.248
Automated mortar grinder for wet (suspension) and dry grinding, mixing and homogenisation of organic and inorganic samples, using pressure and friction without thermal load, suitable for hard, medium-hard, soft, brittle, fibrous and abrasive materials. The fineness of the obtained product is 10-20 μm.
Vibratory sieve shaker Fritsch Analysette 3 Pro, lab 01.248
The Fritsch Analysette 3 Pro is a vertically oscillating shaking sieve system for sieving dry and wet samples with quantities up to 2 kg into different particle sizes ranging between 5 μm and 63 mm.
Vibratory ball mill Retsch Mixer Mill MM 400, lab 03.16
The Mixer Mill MM 400 is a multipurpose ball mill, specifically for dry and wet grinding, mixing and homogenization of small sample amounts (powders and suspensions). Two samples can be grinded at the same time, with a volume of 0.2 to 20 mL per sample. The final fineness of the powder is lower than 10 μm.
[/et_pb_text][/et_pb_column][et_pb_column type="1_3″ _builder_version="3.25″ custom_padding="|||" custom_padding__hover="|||"][et_pb_sidebar orientation="right" area="sidebar-1″ admin_label="Sidebar" _builder_version="3.0.51″ custom_css_main_element="@media (min-width: 980px){||margin-top: -1850px;||}" global_module="5903″ saved_tabs="all"][/et_pb_sidebar][/et_pb_column][/et_pb_row][/et_pb_section]