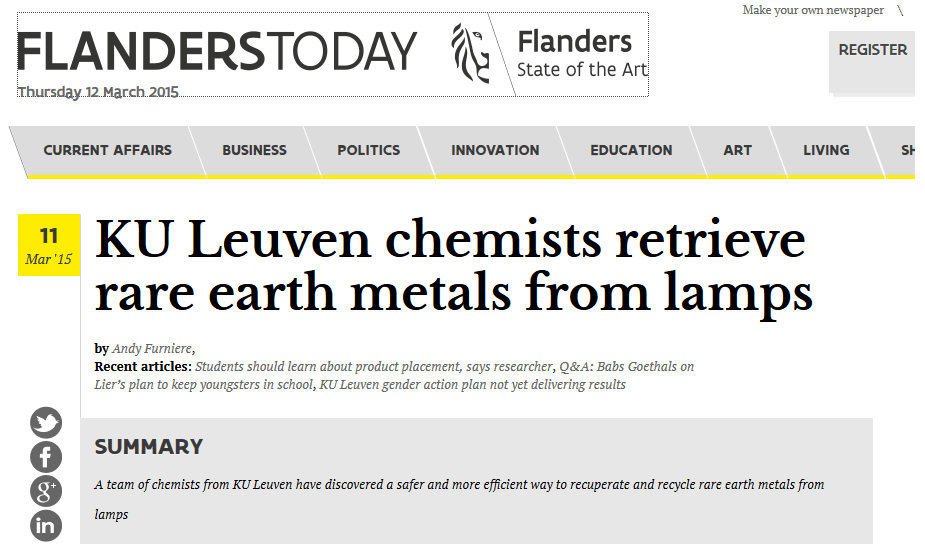 KU Leuven chemists retrieve rare earth metals from lamps (Flanders Today)
[et_pb_section bb_built="1″ admin_label="Row" custom_padding="0px|0px|0px|0px" custom_css_main_element="border-top: 4px solid #39b54a;" transparent_background="off" allow_player_pause="off" inner_shadow="off" parallax="off" parallax_method="on" make_fullwidth="off" use_custom_width="off" width_unit="on" make_equal="off" use_custom_gutter="off" global_module="5898″][et_pb_row admin_label="row" global_parent="5898″ custom_padding="0px|0px|0px|0px" parallax_method_1="off" module_id="newhere" make_fullwidth="on" use_custom_width="off" width_unit="on" use_custom_gutter="off" allow_player_pause="off" parallax="off" parallax_method="on" make_equal="off" parallax_1="off" background_color="#39b54a" background_color_1="#39b54a"][et_pb_column type="4_4″][et_pb_signup admin_label="Row" global_parent="5898″ saved_tabs="all" provider="mailchimp" mailchimp_list="Manage|add_new_account" aweber_list="|none" title="Register for future Solvomet news" use_background_color="on" background_color="#39b54a" background_layout="dark" text_orientation="left" use_focus_border_color="off" header_font="Source Sans Pro||||" header_font_size="28″ use_border_color="off" border_color="#ffffff" border_style="solid" custom_button="off" button_letter_spacing="0″ button_use_icon="default" button_icon_placement="right" button_on_hover="on" button_letter_spacing_hover="0″ /][/et_pb_column][/et_pb_row][et_pb_row admin_label="row" global_parent="5898″ custom_padding="0px|0px|0px|0px" parallax_method_1="off" parallax_method_2="off" parallax_method_3="off" make_fullwidth="off" use_custom_width="off" width_unit="on" use_custom_gutter="off" allow_player_pause="off" parallax="off" parallax_method="on" make_equal="off" parallax_1="off" parallax_2="off" parallax_3="off" module_id="header_jp"][et_pb_column type="1_2″][et_pb_image admin_label="Image" global_parent="5898″ src="https://solvomet.eu//wp-content/uploads/2017/05/Solvomet-Logo_web.jpg" url="https://solvomet.eu/" animation="off" custom_margin="20px|||" show_in_lightbox="off" url_new_window="off" use_overlay="off" sticky="off" align="left" force_fullwidth="off" always_center_on_mobile="on" use_border_color="off" border_color="#ffffff" border_style="solid" /][et_pb_code admin_label="Code" global_parent="5898″]<style type="text/css"><!– [et_pb_line_break_holder] –>.nh_button.closed:after {content:"\33″;}<!– [et_pb_line_break_holder] –>.nh_button.opened:after{content:"\32″;}<!– [et_pb_line_break_holder] –></style><!– [et_pb_line_break_holder] –><script type="text/javascript"><!– [et_pb_line_break_holder] –> jQuery(document).ready(function() {<!– [et_pb_line_break_holder] –>// Hide the div<!– [et_pb_line_break_holder] –>jQuery(&#039;#newhere&#039;).hide();<!– [et_pb_line_break_holder] –>jQuery(&#039;.nh_button&#039;).click(function(e){<!– [et_pb_line_break_holder] –>e.preventDefault();jQuery("#newhere").slideToggle();<!– [et_pb_line_break_holder] –>jQuery(&#039;.nh_button&#039;).toggleClass(&#039;opened closed&#039;);<!– [et_pb_line_break_holder] –>});<!– [et_pb_line_break_holder] –>});<!– [et_pb_line_break_holder] –></script>[/et_pb_code][/et_pb_column][et_pb_column type="1_4″][et_pb_search admin_label="Search" global_parent="5898″ exclude_pages="off" exclude_posts="off" hide_button="on" placeholder="Search" max_width="200px" button_color="#d3d3d3″ field_bg="#f7f7f7″ placeholder_color="#6b6b6b" input_font="Source Sans Pro||||" input_font_size="18px" input_text_color="#606060″ button_font="Source Sans Pro||||" button_font_size="16px" custom_margin="20px|||" custom_css_after="position:relative;||top: -36px;||right: 16px;||float: right;||font-size: 18px;||content: %22%9255%22;||font-family: %22ETmodules%22 !important;" custom_css_input_field="border-radius: 24px;" /][/et_pb_column][et_pb_column type="1_4″][et_pb_button admin_label="Button" global_parent="5898″ button_url="#" button_text="Email News" button_alignment="center" module_class="nh_button closed" custom_button="on" button_text_color="#fcfcfc" button_bg_color="#39b54a" button_border_width="0px" button_border_radius="0px" button_use_icon="off" background_color="#39b54a" url_new_window="off" background_layout="light" button_letter_spacing="0″ button_icon_placement="right" button_on_hover="on" button_letter_spacing_hover="0″ button_font="Source Sans Pro||||" button_border_radius_hover="0″ button_text_color_hover="#e0e0e0″ /][et_pb_text admin_label="Text" global_parent="5898″ background_layout="dark" text_orientation="center" text_text_color="#e8e8e8″ use_border_color="off" border_color="#ffffff" border_style="solid" custom_margin="0px|0px|10px|0px" custom_padding="0px|0px|0px|0px" text_font="Source Sans Pro||||" text_font_size="16px"] Sign up now [/et_pb_text][/et_pb_column][/et_pb_row][/et_pb_section][et_pb_section bb_built="1″ admin_label="Section" inner_shadow="on" fullwidth="on" transparent_background="off" allow_player_pause="off" parallax="off" parallax_method="on" make_fullwidth="off" use_custom_width="off" width_unit="on" make_equal="off" use_custom_gutter="off" custom_css_main_element=" -webkit-box-shadow: 0px 3px 5px -1px rgba(50, 50, 50, 0.5);|| -moz-box-shadow: 0px 3px 5px -1px rgba(50, 50, 50, 0.5);|| box-shadow: 0px 3px 5px -1px rgba(50, 50, 50, 0.5);" global_module="5678″][et_pb_fullwidth_menu admin_label="Fullwidth Menu" global_parent="5678″ background_color="#eef4ef" text_orientation="center" menu_font_size="16px" menu_id="2″ background_layout="light" submenu_direction="downwards" fullwidth_menu="on" dropdown_menu_animation="fade" active_link_color="#ffffff" dropdown_menu_bg_color="#39b54a" dropdown_menu_line_color="#17b52c" dropdown_menu_text_color="#ffffff" menu_text_color="#373737″ menu_font="Source Sans Pro||||" /][/et_pb_section][et_pb_section bb_built="1″ admin_label="section"][et_pb_row admin_label="row"][et_pb_column type="2_3″][et_pb_post_title admin_label="Post Title" title="on" meta="on" author="off" date="on" categories="off" comments="off" featured_image="on" featured_placement="above" parallax_effect="off" parallax_method="on" text_orientation="left" text_color="dark" text_background="off" text_bg_color="rgba(255,255,255,0.9)" use_border_color="off" border_color="#ffffff" border_style="solid" saved_tabs="all" global_module="6299″ /][et_pb_text admin_label="Text"]
"A team of chemists from KU Leuven have discovered a safer and more efficient way to recuperate and recycle rare earth metals from lamps."
Chemists from the University of Leuven have developed a new method to retrieve the metals europium and yttrium from discarded fluorescent and energy-saving lamps. They used an ionic fluid that offers many advantages over traditional solvents, according to the research team.
The rare earth elements are used in red lamp phosphor, a substance that transforms ultraviolet light into red light. It is used, for example, in TV screens and in fluorescent lamps. Until now, recycling processes mostly focused on removing the poisonous mercury from discarded fluorescent and energy saving lamps because the recuperation of europium and yttrium was such a complex and expensive process.
Instead of using  an acid, the researchers worked with an organic solvent that consists of ions, or electrically charged particles. The solvent works very selectively: It can dissolve the red lamp phosphor only. The recuperated rare earth metals are immediately reusable and the ionic fluid itself can also be used again.
"With this method, recycling requires a lot less chemicals and energy," explained professor Koen Binnemans. "It is a better alternative, both technically and ecologically, for traditional solvents."
Author: Andy Furniere
Link to article
[/et_pb_text][/et_pb_column][et_pb_column type="1_3″][et_pb_sidebar admin_label="Sidebar" orientation="right" area="sidebar-1″ saved_tabs="all" remove_border="off" background_layout="light" global_module="5903″ /][/et_pb_column][/et_pb_row][/et_pb_section]